LASIK, PRK, & LASEK Information in Detroit
Also serving Rochester, Troy, & Macomb
If you wear glasses or contacts, you've probably dreamed of what it would be like not to need them. Advances with excimer lasers in the field of refractive surgery can make your dream come true. Excimer laser surgery is extremely accurate and computer programmed to your prescription. With PRK (photorefractive keratectomy), LASEK (laser epithelial keratomileusis) and LASIK (laser assisted situ keratomileusis), most cases of nearsightedness, farsightedness, and astigmatism can be corrected and reduce your dependency on corrective lenses.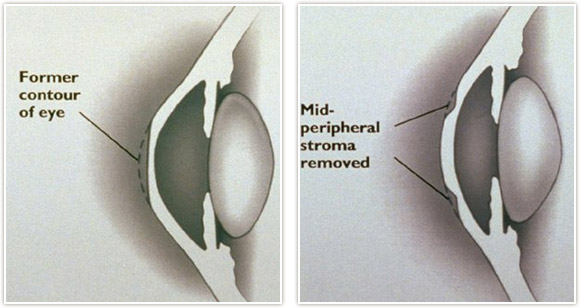 PRK reshapes the human cornea by applying laser energy to its front surface. LASIK involves treatment of the central cornea underneath a hinged flap of corneal tissue. LASIK offers the precision of the excimer laser delivery system, along with providing a faster visual recovery. Most of our Rochester Hills & Detroit LASIK patients notice improvement in their vision as early as the following day following LASIK surgery. You will be treated with eye drops for about one week after your laser treatment. Find out if you are a candidate for LASIK eye surgery and utilize our free LASIK Screening at our Rochester, MI office.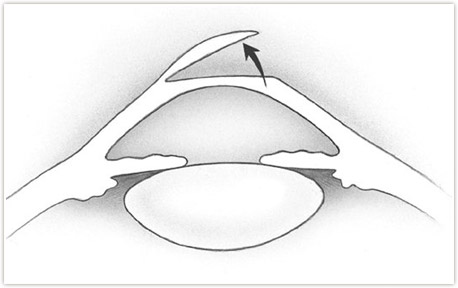 LASEK Eye Surgery
LASEK (laser epithelial keratomileusis) is a variation of PRK and LASIK. It is used mostly for people with corneas that are too thin for LASIK. In LASEK, the epithelium, or outer layer of the cornea, is removed using a diluted alcohol solution. An excimer laser is then used to sculpt the corneal tissue underneath. Following the procedure, the epithelium is placed back over the eye. A bandaged contact lens is then placed into the eye and is worn for about five days or until the epithelium has healed. Detroit/Rochester LASEK patients who undergo this procedure generally experience increased eye irritation and longer recovery time compared to LASIK. However, the long-term results are similar to that of PRK and LASIK patients.
What is LASIK Eye Surgery?
Laser-Assisted in Situ Keratomileusis (LASIK) involves the treatment of the central cornea of the eye with an excimer laser underneath a hinged flap of corneal tissue. LASIK can be used to treat myopia (nearsightedness), hyperopia (farsightedness) and astigmatism.

Am I a Good Candidate for LASIK eye surgery?
You may be a suitable candidate for LASIK if you:
Are over the age of 18 and struggle with nearsightedness, farsightedness or astigmatism
Have a stable eye prescription for at least a year
Are not pregnant or nursing at the time of surgery
If you have a pre-existing eye disease that affects your vision (e.g., glaucoma, cataracts, corneal disease), or if you have thin corneas, you may not be a good candidate for LASIK.
To see if you are a good candidate for LASIK we welcome you to take our LASIK Candidate Quiz.
The LASIK Procedure
The surgery is performed on an outpatient basis using a local anesthesia and is relatively painless. The actual procedure usually takes less than 10 minutes per eye. Depending on your prescription, and the amount of correction needed, the laser itself only takes 20-50 seconds to correct your vision.
Healing is rapid and does not require stitches. Many of our LASIK patients see a dramatic improvement in their vision within the first day. Most patients are able to return to their normal activities within a day or two.
CustomVue® LASIK Eye Surgery
The VISX CustomVue® laser vision correction is a Wavescan driven LASIK procedure which enables your Detroit LASIK specialist, Dr. Weingarten, to measure and correct unique optical imperfections in your eyes. The Wavescan device provides a direct digital link to the laser, providing a new level of precision and accuracy.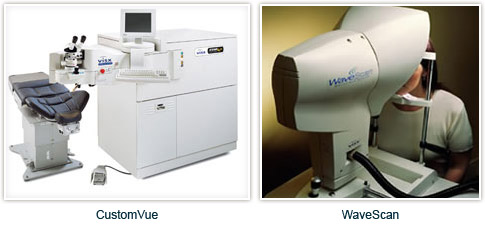 Bladeless LASIK Eye Surgery
The surface flap is usually made with an oscillating microscope blade, Hansatome®. In the "all laser LASIK" procedure named iLASIK®, a surface flap of corneal tissue is produced with the Intralase® femtosecond laser. Both procedures produce a precise incision in the cornea. Once the flap is created, the tissue is pulled back and the corneal surface beneath it is reshaped with the VISX S4® excimer laser. Once the flap is replaced and the eye has healed, our LASIK patients enjoy clear, youthful vision without glasses or contact lenses.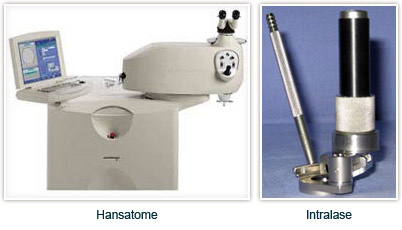 How Much Does LASIK Eye Surgery Cost?
The cost of LASIK varies with each individual as every eye is unique as well as the procedure may differ slightly due to the technology chosen for the surgery. However, at Rochester Eye Care, financing options through CareCredit are available and typically LASIK costs $1600 per eye.
Will I Still Need Reading Glasses After LASIK?
The goal of LASIK is to eliminate or reduce your dependence on corrective lenses. It cannot correct an aging-related eye condition called presbyopia, which may require the use of reading glasses. However, monovision is a technique used for presbyopia patients that corrects vision in one eye for distance and adjusts the other eye for reading. Your pre-surgery tests and discussions with the eye doctor will help determine if monovision is an option for you to consider.
Schedule a Free LASIK Consultation
During your LASIK evaluation, Dr. Weingarten will discuss whether custom, bladeless or conventional treatment would be best for you. If you are interested in scheduling a free LASIK surgery consultation and live in the Detroit area, please contact our Rochester, MI office today so that we may help you achieve clearer, crisper vision.
Additional Information