Comprehensive Eye Exams in Detroit
Also serving Rochester, Troy, & Macomb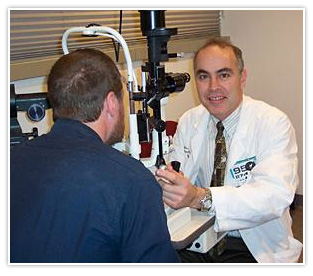 As a highly experienced Detroit eye exams specialist, Dr. Weingarten recognizes it is important to have your eyes examined regularly. During an exam, eyes should be checked for health problems as well as visual acuity. How often you should have your eyes checked varies, depending on your individual circumstances. Children should be screened by age three or four, and people ages forty and over should be examined by an ophthalmologist every two to five years. If you wear glasses or contact lenses, it's a good idea to have your eyes checked every year.
A comprehensive examination in Detroit may include: a visual acuity test to determine if you need corrective lenses; a test to measure your eye pressure; a retinal exam to view the back of your eye; and a microscopic examination of the front of the eye. A comprehensive examination is important because there are several eye diseases, such as glaucoma, cataracts, macular degeneration and diabetic retinopathy that have no symptoms in their early stages. An eye examination may also reveal disease elsewhere in the body. Remember, the sooner a vision problem or disease is detected, the better the chance for successful treatment.
Dr. Weingarten has many years' experience providing Detroit area patients with advanced eye care and vision correction treatments. His dedication and outstanding surgical skill have helped Dr. Weingarten earn a reputation as a foremost cataract surgery and LASIK eye surgery expert. He also specializes in presbyopia treatment and is renowned as a foremost presbyopia expert.
If you would like to schedule an eye exam in Detroit with Dr. Weingarten, please email or call our office at (248) 650-2255. We would be more than happy to help you maintain great eye health.
Services